Five years ago I fished Overall Run, and I didn't catch a damn thing. To this day, it is the only time I've been skunked in Shenandoah National Park on a stream that has brook trout within the park boundary.
That experience was a bottomless cesspool of wrong.
At the time, I wondered if the stream was actually empty. Why do I now know that this stream has fish? For two reasons I've learned since that day I fished it. The first is that there is research one can fairly easily find that describes fish surveys done on this stream. The second is from a Trout Unlimited meeting I attended a few years ago. The speaker, Paul Kearney, who used to own the now defunct Thornton River Fly Shop in Sperryville, Virginia, and now runs the Trout Unlimited Tri-State Conservation and Fish Camp, gave a talk about his long experience fishing the park. He mentioned Overall Run. But troublingly, he described an incident years earlier (I may not recall all the details correctly…) in which there was an accidental release of some chemicals that were stored at a site near Matthews Arm. Overall Run was contaminated and the trout were impacted. My working assumption, then, was that the stream was compromised still, and that that was the reason I had no luck there.
So Overall Run might have fish, but maybe they were not doing well — maybe they were on the decline, or on the rebound, or who knows what. Whatever the situation, I had already vowed never to waste any effort there again.
Well… time heals the smack of the skunk. Either that, or I was a fool, but last week I returned to Overall Run. It turns out this is a beautiful stream, and though I would not rate it among the best places I've fished in the park, it has some appeal along with its drawbacks.
Among the drawbacks is the relatively easy access. You can get there from Route 340 very quickly. The main parking area at one of the trailheads is littered pretty badly, and I suspect it's due to this. Another issue is the proximity of the trail to the stream, which runs along quite a stretch of it. It's definitely not the secluded experience of many other streams in the park.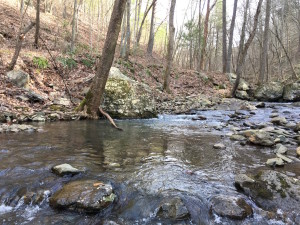 Anyway, my afternoon there was just OK. I caught a few fish and they were normal sized SNP brookies, but they were few. The water temps didn't get out of the forties, and along with my stubborn adherence to the dry fly when stalking brook trout, my limited success may be explainable. But really, I was stoked to return there and find fish after failing five years earlier. That's a long time to hold a grudge. I curse the place no longer.
Data
Weather conditions: mostly sunny, winds SSW 5 mph, gusting to 25 mph
Air temp: upper sixties
Water temp: fifty-five
Insect activity: some very small mayflies
Flies used: Adams, Patriot