Work and the typical obligations of life have kept me bound to the local spots. The one place I can get away to quickly and spend an hour or two in the evenings is a local bass pond, a pond thick with bluegills as I wrote about no too long ago.
Not only is this a fun place to catch a mess of bluegills but I've caught quite a few nice largemouth bass at this pond, too, all on slightly larger flies like blue and black Shenandoah poppers. I also landed my biggest bass from that pond using a big black round popper on a five weight fly rod. It measured sixteen inches and weighed a little over two pounds. Not bad for a pond that might be five acres in size and is pretty shallow.
The only bad part is that over the past few weeks the weeds have grown massively on the edges of this pond, negating a lot of the advantage of using a fly rod there. The next step may be to take the ultralight spinning rod down there with some poppers. Not quite the same but still a fun way to end a day.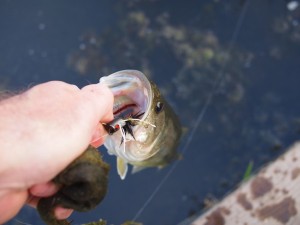 Some of my friends who fish for bass and pike up north really look down their noses at catching small fish. But a small fly rod makes for a fun time catching some big bluegills and even small bass. I've caught a bunch on my four weight seven footer and, really, how can you complain about that?You can't.So now we're into July and it is HOT. My inclination is to stay away from the lowland trout streams unless they are fed by very cold springs. Trout are stressed when the water temperature hits 70 degrees and for a lot of streams right now this is the case. I have not been in the mountains since early June so have not measured the temps their but I understand that all the spring rain we've had has kept them in much better shape than normal this time of the year. Murray's Fly Shop reported last week that they were still seeing hatches of sulphurs and little yellow stoneflies, as well as the typical summer fare of terrestrials including beetles.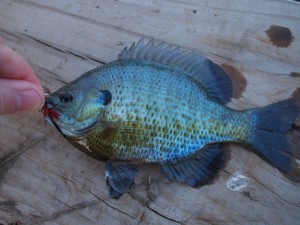 Go get 'em.