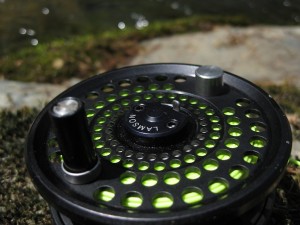 Many people describe the slide in prosperity in the United States as a result of our eroding manufacturing base and "exporting" our industrial production overseas. Maybe. Now that our holiday shopping for everyone else is finished, maybe we can learn something from the domestic fly fishing industry and help our economy as we shop for new gear…
After enough time has gone by I usually bury my memories of pre-holiday shopping. Enough time is the two day window after Christmas when I realize I have 1) some gift cards 2) some cash and 3) my unused REI dividend for the year. That dividend expires at the end of the week, so obviously this is a huge priority. Fifty-six bucks is enough to get me a good down payment on some fleece, or trekking poles, or a couple of Buffs. The Buff is that tubular headgear that has replaced the bandana in those hip fly fishing videos. You've seen them. Dudes fishing their tropical fantasy, turquoise water all around them under skies almost the same color. They wear these high tech bandana replacements around their necks and lower faces to block out the sun, and hoist giant bonefish and permit and stuff like that up to the camera lens and hoot. Sometimes these guys look like Yassir Arafat when they wear the white ones with the mid-eastern style print. Arafat with expensive sunglasses, and minus the straggly hair and undoubtedly nasty breath. Arafat the revolutionary. The freedom fighter. The Buff wearing fly fishing terrorist? These guys are obviously showing their inspiration.
The number of companies making great gear in the USA definitely makes the fly fishing industry unusual.
So I got to work at 6:30am yesterday so I could knock off a couple hours early and hit REI. Big mistake. REI the first business day after Christmas, with a line as bad as any I've ever seen even compared to a mall. It was unreal. From the counter to literally three fifths of the way across the store, the line ended right next to the kayaks and climbing gear. Kind of like one of their annual bicycle sales, only with way more people. I couldn't tell if they were all returning things or buying stuff. It had to be the former. Who would wait in line to buy something when the REI website has everything you can find in the store? Oh yeah. I realized I didn't need to be there either, just needed an Internet connection to spend my dividend. I could to that from home. Good. I was out of there.
Once home with a Dogfish Head Burton Baton, the oak aged imperial pale ale extraordinaire, I pulled up rei.com Actually, not the normal REI site, but the outlet center part of the site. Yes, let's be honest. I fish mostly for brook trout. You do at least sometimes so you know what I'm talking about. Otherwise, you'd be reading The-Fly-Fishing for-Marlin-off-the-Coast-of-Costa-Rica-All-Year-Long-Guide dot com. And shopping on the main REI site for the stuff that's not on sale. We, the cheap small stream fly fishing bastards, fish close to home wearing closeout gear. And love it.
A very interesting part of the site is the REI Outlet Made in the USA section. This was new to me. They showcase the items they sell that are made in America. In these tough post-recession times, it's almost embarrassing to admit that we don't all seek out this stuff. But we don't, and I think I see why. The entire Made in the USA section of the site has 79 items (I counted), total. These do include some useful things for people like us, including a Seattle Sports dry pack (the 29 liter size). They also had carabiners, a bunch of socks, hats, t-shirts, a Victorinox flashlight (made in the USA, how about that?), a bicycle kickstand and of course the Monopoly Fishing Edition Game ("Special Buy"). All made in America.
And that's about it. All the good stuff they sell is not made here. Arguably, that is not a good thing. There are sites like  www.saveourcountryfirst.com, which sells only products that are made in America. You would expect them to have more than 48 domestically manufactured items for sale. But they don't. And their catalog includes cherry and mesquite wood chips. Not really manufacturing per se.
This is an area where the fly fishing industry really does well. Sure, we have lines of rods and equipment made in Korea and China (think LL Bean, Temple Fork Outfitters, probably many others if you look closely at the stickers) at the lower price points especially. But the number of companies making great gear in the USA definitely makes the fly fishing industry unusual.
Here is a partial list of the better companies who do most or all of their production domestically: Abel, Lamson, Nautilus, Orvis (most but not all of their rods, anyway), Rio, Ross, Sage, Scientific Anglers, Scott, Simms, St. Croix, Tibor, Winston. If you've been fly fishing for any length of time you undoubtedly have products from at least two of these companies and likely more. I know there are also others I haven't listed who build stuff in the U.S. And almost every custom maker you've heard of does their production in the U.S., too. This is a phenomenal thing – the fly fishing industry largely does it right here.
I listened to a recent episode of The Itinerant Angler podcast with the owner of Nautilus reels, Kristen Mustad (yes, a cousin in the same Mustad family from Norway that makes the great fishing hooks). He said that at trade shows Chinese contract manufacturers  often approach him about having them build reels for him. He has spec'd out the parts he uses and asked for quotes, and it is always well above his cost to produce the reels in Florida as he does now. This really blows a hole in the America can't compete in manufacturing idea. According to Mustad, the only thing the Chinese do cheaper is labor. Everything else, including energy costs, is the same or in some cases greater. I know that's not the whole story. For one thing, as you scale up manufacturing this analysis likely changes compared to a small industry like fly fishing. Still, what an anecdote from him about comparative costs of production for Florida vs. China.
There are some real bargains in U.S. made fly fishing gear these days. Scott's A3 rods are a phenomenal value for something made entirely in Montrose, Colorado. I have one and I really like it. And in the very same town Ross manufactures their excellent reels. Sage, in Bainbridge Island, Washington, has their Flight rods, and while a little pricey they are not much above A3 territory and well below the cost of the TCx and their other top line rods. I have the Flight's predecessor, the FLi, which I got on closeout as part of a complete kit with a Sage reel and Rio fly line, for $236. That's just a little more than I paid for my first outfit, an LL Bean Streamlight 7 weight rod, reel and crappy fly line, all mostly made in Korea. And the FLi is a MUCH better rod, actually a great rod even ignoring the low price. St. Croix also has some well regarded rods in the $200 range (some made in Mexico, but even their higher priced rods that are made in the USA are not much more expensive).
Patagonia seems to be a company that is sticking with its Asian manufacturing, including its waders and other fly fishing gear. I heard an interview with Yvon Chouinard, Patagonia's owner and founder, during which he was asked about this. Chouinard is someone I admire a great deal. And I love Patagonia gear and own quite a bit of it (just bought a micro fleece pull over today in fact). But I have to question their practice of sticking with overseas manufacturing for most of their products. Chouinard remarked about their clothing production (the "rag business" as he calls it) that Asian seamstresses are superior in skill. That would not surprise me, as I see a lot of very high quality stuff that is made in China, for example. Twenty years ago that was not always the case, and in fact back then Patagonia manufactured a lot more stuff in the USA. For a company that touts its environmental activism, loading finished goods onto ships and trucks to get them back to your primary market, the U.S., seems like it has quite an environmental impact. In fact, they acknowledge this pretty frankly on their footprint chronicles website. In other words, I'm not pointing out anything they don't already know. That all begs the question of why they don't make most if not everything in the U.S. I wonder if their public introspection about their own environmental impact might trigger such changes at the company, even though they are clearly the corporate leader in environmentally responsible practices overall.
Timbuk2 is another company that makes great stuff, though not fishing related. Its manufacturing is in the U.S. I just sent a Timbuk2 laptop bag back to them for repair. They couldn't repair the bag and sent me a $120 credit to use on their website, so I ordered a custom bag. It arrived here  a day and a half later! The tag on the inside makes me feel good to read it: "Hand Made in San Francisco." How cool is that? Not just because of where it's made, but because it's top notch quality and because of customer service like that. They have locked me up as a customer for a long time. Just as Scott, Sage and others have. The made in the USA part is just the icing on the cake in this case.
So, really, it seems like one thing is clear. For the good of the country, buy a fly rod, reel and fly line in 2011! You ALWAYS need something new, and knowing that the good ones are all made in the USA surely has to make you feel a whole lot better about doing it.