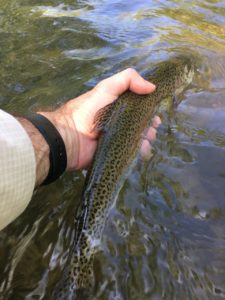 My friend Jim called a couple weeks ago and, with a minimal amount of coordination and fuss, I ended up at Double Spur Outfitters in Star Tannery, Virginia, on the last Friday in May with him, Charlie, and the older Dave (I am the younger, let's remember). Though my preference is wild trout fishing, getting some stocked rainbows and bringing a couple home for dinner was certainly a fun time.
I've driven over Cedar Creek a number of times at different crossings, and always wondered if it could be a good trout fishery. The owner of Double Spur, Levi, is making sure it is, at least in the upper section on the nearly four miles of stream that he owns. He has planted lots of big, stocked rainbows in the stream, along with some brook trout. Plus, there is at least one tributary that has wild brookies that may find their way downstream, though we did not encounter any.
The fishing was not easy. The stream itself has lots of shallow runs interspersed with some deep pools where we found fish. I started with a dry fly but abandoned that idea after ten minutes — it simply was not going to happen on this day, despite the warm weather and a number of small, grayish caddis flying around. I ended up with my usual prospecting rig, a dry-dropper, which was a foam ant with a bead head hare's ear to start. That combo worked, though I only caught a couple of fish with it. The other fly that worked for me was the infamous pellet fly. Don't ask. I am truly ashamed, but it took another couple of fish.
Not sighted was the ten-pound monster Levi said had been caught at least once and released — over a mile upstream from where he stocked it.
We ended up taking about ten fish home, and on the wood-fired grill on low heat (as low as I could get natural coals to go), it was a great meal with a salad and a glass of white wine. Mmmmm hmmmm.