Man, have I not posted anything since June 25th? That's a shame. Trouble is, once the summer arrives the brook trout fishing in Virginia and parts slightly north of here really slows down. So I turn to other types of angling…
Much of my summer fishing was done from my new vessel, a Native Watercraft Ultimate 12. Not the new Ultimate FX, but the older model. Turns out that thing is more than good enough for what I do, which is tooling around the Shenandoah River trying to take smallmouth bass on a fly rod. The great thing about many of these new kayaks is that they allow you to stand up and cast… without tipping over! The Ultimate 12 does this so well. I can float down the river standing up and casting to the banks. I can stand up and sit down without dumping it. And I can even paddle the thing like it's a stand up paddle board. There is not much I would really change about the Ultimate. It's barely heavier than our Old Town Otter recreational kayaks, which are
shorter and do not support standing up other than in a very comical sense.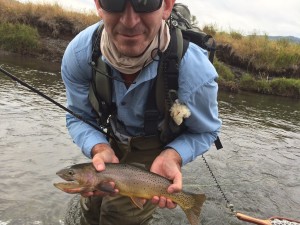 In August, my wife and I finally took an epic road trip that we'd been thinking about for years. Thanks to changes in our employment situations which now have each of us working as freelancers, we decided the time was nigh. We drove across the country — well, at least until we got to Wyoming. Then we stopped and stayed a couple weeks. The grand destination was Yellowstone National Park. We had other places on our hit list, too, including Madison, Wisconsin, the Badlands and Black Hills areas in South Dakota, Montana (just Montana, had to go there), the Grand Tetons, and Jackson Hole.
This was a road trip as much as a fishing trip, though I pushed and succeeded at twisting it a lot towards fishing. We fished in Yellowstone National Park, mostly in Soda Butte Creek, and also in Pebble Creek, Slough Creek, the Lamar River, and the Yellowstone River. Then we headed south to the Grand Tetons and Jackson, Wyoming, and fished the Snake River from the banks one day.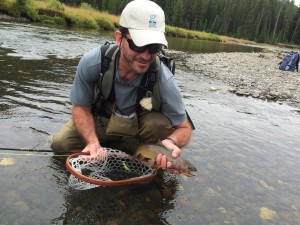 We caught quite a few very nice Yellowstone Cutthroats and some Snake River Fine Spotted Cutthroats. And in the Snake, I even found a few brook trout. It was all DIY fishing. Maybe next year, a guide and a float trip might be in the cards on the Snake.