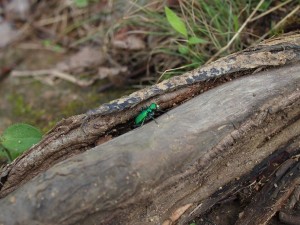 The Gunpowder River in Maryland. Ah, yes. That was the plan one day last week. I was really looking forward to it since I've never fished there and have heard nothing but good things about the Gunpowder. The trip was being organized by the guys at the LL Bean store in Tyson's Corner, Virginia, perfect for a Gunpowder newbie like me. So the night before, I tied some nymphs, packed my stuff and put a 5 weight sink tip line on the old Pflueger Medalist reel I got off eBay, just in case the water was a little high after all the rain we had last week. That reel was a good buy for $20. I had to take it apart and give it a little rehab — a good cleaning, lube and adjustment — but now it looks fine and the spool spins without rubbing the frame. In my haste to fix the reel up I didn't realize there were two tiny springs in there — one for the pawl and one for the cam release. So when it didn't go back together so well I realized pieces were missing. Thankfully I found both tiny springs under my chair. After an hour of scratching my head and trying everything I could think of I finally figured it out. The next test of wit and equipment will be when I call on this thing and its slightly slick drag mechanism to stop an actual fish of some size. But the old reel deserves a shot, or maybe another shot — maybe it's seen and done this and more with its previous owner. If it proved itself then and still got kicked to the eBay auction curb, it's deserving for sure.
So… I was ready to roll. The Gunpowder and its wild brown trout were to be assaulted by my enthusiasm, vintage reel and didymo-free wading boots. Unbeknownst to me that night before while I was the fly tying reel-fixing trip-packing maniac, the weather reports started coming in predicting hell was to break loose in the morning. I got an email saying it was off due to dangerous lightning and high winds. Good plans for my day off, completely scuttled. I am thankful, though, that it did not end up worse. This was part of the storm system that destroyed Tuscaloosa, Alabama and took hundreds of lives, including eight in Virginia. It ended up being a dangerous storm and it was a wise decision to stay put.
What do you do when a well-planned day on the river comes apart? Well, the sky cleared up nicely and I had the time blocked off so figured I should go fishing anyway. The Shenandoah River was pretty high and muddy from all that rain, so I decided to catch some brook trout in Shenandoah National Park in a stream I had not yet fished. There was one I'd been eying on the map not too far away that looked promising — Overall Run.
And it stunk.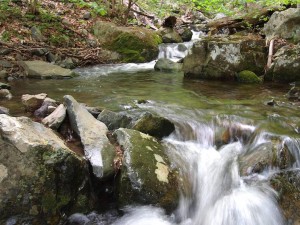 I've never heard of anybody fishing Overall Run, but that didn't matter. There are plenty of streams you never hear about people fishing, even in a national park. It looked like a good long stretch of water inside the park, starting above 2000 feet elevation, with the park's highest waterfall, 93 feet high. Had to be good, right? Well, I feel kind of stupid now. Had I read before I left that Overall Run Falls dries up in the summer, I would have realized that this stream probably warms too much, runs too low and does not support brook trout. That would explain things. I could have read about the seasonal flow of Overall Run here, too. A little internet research would have saved me a trip.
It was a good hike, though, but it's too bad about the fishing since it's a very pretty stream — a classic SNP mountain trout stream, just without the trout. I tried the triumvirate of go-to flies — Adams, Royal Wulff and Mr. Rapidan. The water level was good. I was casting like a champ, getting drag free drifts, hitting the corners of the pools, right up against the boulders — doing everything right, the things that work every time I've gone this year, and in years past. I got no strikes, got no looks, saw no fish — nothing. Maybe it's not conclusive, but coupled with the nature of this stream, it surely is. A day like that would have raised a couple dozen fish on a stream that had any.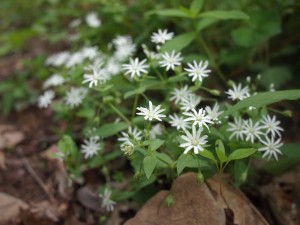 Oh well. Like the last time I tried a questionable stream, Indian Run, I had to go hit the money spots for a few weeks after that to salve the wounds. Same thing now. The month of May is prime time brook trout fishing and I'll be hitting the best streams in the park. No more of this experimental, optimistic exploratory crap. At least not for a few weeks.