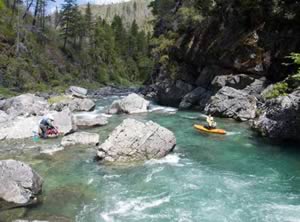 So you've never heard of the Chetco and haven't fished there either? I know, but it's another one of those potential FUBAR things about which you may regret not taking action.
The Wild and Scenic Chetco River in Oregon is renowned for its world-class salmon and steelhead runs, and crystal clear water. However, it is still vulnerable to mining thanks to the General Mining Law. A law from 1872 that gives mining precedence over all other uses for the river!

The good news is that the U.S. Forest Service is urging the Interior Department to protect about 17 miles of the river by withdrawing it from mining for the next five years to give Congress time to pass more lasting protection via the Chetco River Protection Act.
Take action – contact Ken Salazar, U.S. Secretary of the Interior to help protect the Chetco. A sample letter to submit:
I support protection of the Wild and Scenic Chetco River from mining.  With its crystal clear water, big salmon, wild backcountry, and fabulous camp spots, the Wild and Scenic Chetco River is a great American outdoor treasure.  It's also the beloved backyard river of local communities that benefit economically from its world-class salmon and steelhead fishery and the pure drinking water it provides.
The Rogue River-Siskiyou National Forest recently released its environmental assessment (EA) for a 5-year mineral withdrawal in aid of legislation (the Chetco River Protection Act).  The EA makes clear that suction dredge mining along the river threatens the outstandingly remarkable values for which the area was designated.  It emphasizes that these values are important economic drivers for local communities and that these values can only be fully protected through a mineral withdrawal.
American Rivers listed the Chetco River as one of America's Most Endangered Rivers® in 2010.  It is time to ensure that this river no longer warrants this concerning distinction.
Please approve the immediate withdrawal of the Chetco River from mining for the next five years, in order to allow Congress time to pass permanent protections for the river. Thank you for considering my views.