I think 2011 goes down as the one of the best years of fishing for me. Now that we're into the middle of January 2012, I've had time to go through photos and savor all of it. A quick review of the highlights and some notable firsts for me in 2011: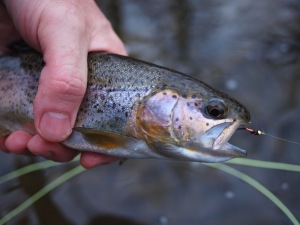 The first day of 2011 — New Year's Day — I caught one fish, a 15″ rainbow in Big Stony Creek near Edinburg, Virginia. That was the first time I'd ever gone fishing on New Year's Day. I got him on a Copper John, and it was the nicest rainbow I've caught so far (I know, I have to get out and try for rainbows a little more often). Big Stony Creek is a nice stream. It gets stocked by the Virginia Department of Game and Inland Fisheries a few times each year but it also seems to have a population of holdover trout. Some of its tributaries, I am told, also hold some nice brook trout. This is something I am going to have to discover this year.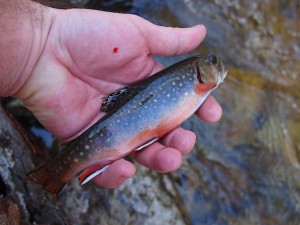 Brook trout fishing, which is for some strange reason still my first love, was excellent. I got to Shenandoah National Park at least a half dozen times to catch fish, plus a couple more times to scout Indian Run and Overall Run. I've since learned some things about the latter that give me hope it will be a decent stream to fish someday, but for me those two streams were a bust. But the Piney River, Hughes, North Fork of the Thornton, Jeremy's Run, The Robinson River in White Oak Canyon, Cedar Run and one stream I still hesitate to name were often excellent. Beginning on the no-name stream in late February I caught three nice sized brookies on an Adams. Dry fly fishing in the winter, that's it! And it just got better all season. In the Poconos I caught about five fish from one pool on a small mountain stream, all over ten inches and the biggest going about 12″. A twelve inch brookie in a small stream… THAT was nice!
In May I finally checked out the pond near home that I've been driving by for years. In a half dozen trips in spring and early summer I caught dozens of bluegill and largemouth, and one fallfish. Nice evening getaway in only a ten minute drive from home. I'd sit out there from an hour or so before sunset until the posted clear-out-of-here time (darkness), throwing micro poppers on my four weight to aggressive bluegill, or bigger poppers with my five weight Sage FLi (still love that rod once you get used to its tip-flex action) to decent sized largemouth. This year I'm going to return with a proper deer hair bass bug and see if the REALLY big bass are really in there.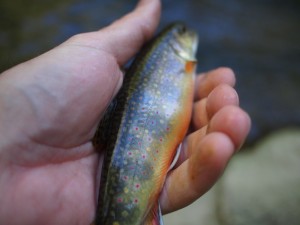 Also in the spring I got up to Thurmont, MD a few times. I hooked two brown trout in Big Hunting Creek (what a nice place) and found a stream not far from there where I landed a couple nice brook trout. This is another area that merits further exploration. I drove around quite a bit and decided to check out a couple streams right next to the roads I was driving. Picked up the brookie in the photo literally right next to the road where I parked. I can't give that one up — you'll have to find these spots yourself.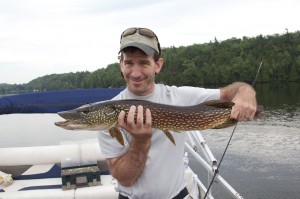 In July I went to Canada with some friends to fish Gananoque Lake. My fly fishing was limited by their desire to not have a fly line whizzing by their heads with four of us on a pontoon boat, but I did manage to use it once with them tolerating it and a few times on the dock, catching some nice sized bluegills and one good crappie. In the boat with the spinning rod, I caught the largest smallmouth so far (about five pounds!) and my first pike, going 30″. Those both made the trip worthwhile, along with the other catches. Next time, I'm going to chuck a full sinking line over the side with a meaty pike fly. Those guys will get used to it.
Several times this summer I also got several pickerel on the fly and spinning rod in a nice lake in the Poconos my family and I go to every summer. It's interesting as they seem to prefer different colored flies at different times of the year. In June and early July bright flies (white and flashy) work best, while late summer and fall I've done really well with fox tail Clouser minnows. I overdid it in mid-summer with a full sinking line instead of my usual intermediate seven weight. It seems like going too deep in that lake is not as productive as staying in the sweet spot about four to ten feet down. And the "big game" fluorocarbon mostly kept them from biting through the line except for a couple times. More to experiment with this year…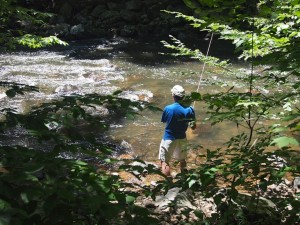 Another first (maybe I should call this a second) was returning to the place I caught my first fish when I was six years old, Round Valley Reservoir in New Jersey. My dad and I made a hot summer day of it, hitting it and later that day the South Branch of the Raritan in the morning and afternoon, respectively. Another skunking but I think I know what to do when I return there this year (i.e. don't go on a hot bluebird day in summer — hit Round Valley by boat, too, not from shore, and early or late; return to the Raritan to catch some trout in the springtime… etc.).
Of course, living near the Shenandoah allows me to go out in the kayak or wade near shore and catch smallmouth, catfish, carp and bluegill. Haven't gotten a carp yet, but I'll talk about that more in my 2012 post.
I even wet a line in the Potomac for the first time ever. Skunked, but for a high muddy water day I wasn't expecting much. My plans for shad fishing were scuttled by our incredibly wet springtime, and I still have not gotten down there to catch some rockfish as we call them here, or stripers if you're from up north. I will be doing all that this year if the creek don't rise.
Late in the summer I attended a two hour casting clinic with fly fishing instructor and guide Dusty Wissmath at Kelly's White Fly Shop in Shephardstown, WV. Dusty is a fantastic casting instructor. He focused on a few key points, and though it was geared towards beginners he spent some time separately with me (probably a good intermediate caster) and that was very valuable. I highly recommend attending any instructional clinic with him, and based on that one, I may try to do a guided trip with him.
The year 2011 found me distracted with photography. I'd gotten into it off and on in years past but the past two years I've really taken to it, 2011 especially. That and my son's sports schedule kept me busy and mostly away from fishing in the fall.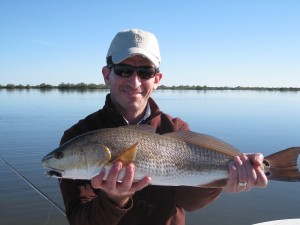 The last week of the year I managed to get another milestone — my first saltwater fish on a fly rod in the Mosquito Lagoon in Florida. Had my casting been better I'm sure I could have boated a few more fish but as it was I hooked a few and boated one nice redfish. Redfish! I can't wait to go back and do that again.
By the time 2011 ended I filed away fishing licenses for Maryland, Canada, Pennsylvania and New Jersey. Thankfully Virginia doesn't issue their licenses on a calendar year basis so the freshwater and trout licenses are good for me until mid-2012 or so. Maryland and Pennsylvania will be renewed right away, the others as needed.
So 2011 was a very good year, but I think I can top it in 2012. Stay tuned for what I'll call the 2012 small-container-of-good-stuff (rather than "bucket") list…