Here is an interesting article about the concern over groundwater in Rappahannock county, Virginia and in nearby Shenandoah National Park. Note that the link is through the Piedmont Environmental Council website and unfortunately links to the Rappahannock News' electronic news edition, which is not the nicest way to read and link to things.
Anyway… the gist here is that springs and groundwater are not being replenished like they used to be. "What have been historically reliable spring flows are disappearing, droughts are becoming a regular phenomenon with increased temperatures," according to the draft report presented to the county's Board of Supervisors.
It gets worse for us fans of brook trout fishing. The article states that according to Shenandoah National Park personnel, "numerous springs are experiencing greatly reduced flow and that some have dried up entirely." I noticed this two months ago when I fished the North Fork of the Thornton River from the bottom up into the park. It looked like this: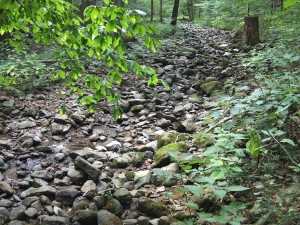 Not what I was expecting. And this past summer was not as bad as some recent summers. This is not a good thing at all but may be something we are going to have to get used to.