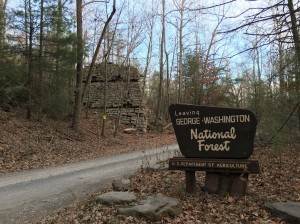 Fall and winter are great seasons to scout streams that may hold brook trout. In fact, it's what I spent this past weekend doing. I explored two streams, one in the George Washington National Forest, and one in Shenandoah National Park. I had long suspected that each of these held brook trout but had never heard of anyone fishing either of them.
I left the fly rod in the car for each hike to the water. My goal was to sight at least one fish in each stream, to either confirm or possibly write-off any presence of brook trout.
The first stream runs along a dirt road in the national forest. It veers away from the road a short distance upstream from the only parking spot, and just downstream it is posted as private property. Normally, I would have hiked upstream along the public access to check it out, but it's hunting season now and hunters were at turnouts all along the forest service road. I had left my blaze orange hat at home and was dressed in tans and other colors a little too deer-like, so I stayed put at the pool next to my truck. Luckily, after staring at the water for quite a while, I saw a lone brook trout, about eight inches long. It darted and weaved upstream in a flash and buried itself under a shelf of rocks. Success!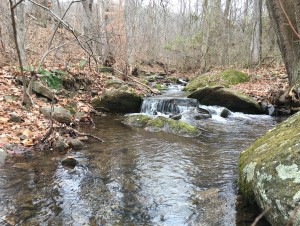 The second stream is one of the forty-six ninety or so in Shenandoah National Park (depending on how you count them) that have populations of brook trout. I wasn't able to find much info about this particular stream, so I drove down there and made an afternoon hike out of it. This is not one of the larger streams, but it has always looked promising. Most of the good-looking trout water seems to be quite a ways downstream. It wasn't until a few hundred yards from one of the gates at the lower park boundary that I saw fish bolting at the sight of me in a few different pools. Again… success. Have to return with the rod to check out some promising spots further upstream.
I was hoping to see some fish guarding their spawning beds, but I saw none. A few years ago my wife and I had hiked down the trail along Jeremy's Run the day after Thanksgiving. We saw brook trout guarding redds in one pool. I was hoping it was not too late, but Thanksgiving had been almost a week earlier than it was this year. They are probably done now.
By the way, interesting bit from the East Coast Fly Guy about fishing for brook trout during the fall. Last year, he emailed a few fisheries biologists and fly shop owners. Opinions will differ, but the biologists did not feel that there would be much impact on brook trout populations from fishing or wading during these times of year. I still think being a little careful when wading is a good idea, but it sounds like brook trout populations are resilient and much more affected by stream flows and persistent trends in weather.