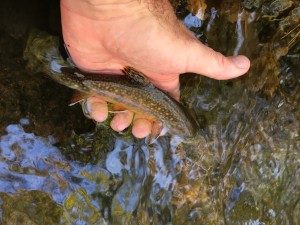 Great fall day! I went out yesterday intending to hit just the Rapidan River near and also within Shenandoah National Park. I turned this into a three-stream trip on a whim. Hitting three streams in one day is not my usual approach. The typical thing for me is to park on Skyline Drive, hike down below fishable water, fish upstream for a while, then hike back out. Always a workout. Today, it was all drive-by fishing.
The first detour was to one of the places I can catch decent brookies without hiking more than five minutes. Sure enough, I got the guy at the top of this post on a small Stimulator. That was good enough. I turned around and got back in the car, bound for the Rapidan.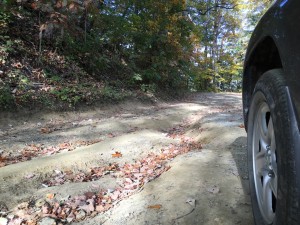 I haven't fished the Rapidan in at least five years. It's an odd place in the park, maybe the only stream where you can just about drive right up to all the good water and fish. Although "driving right up to the good water" makes it sound easy, see the photo — that's a relatively mild section of the road. The road appears to be in much worse shape than when I was there years ago. And I suppose that's a good thing. It probably keeps the fishing pressure a little lower than it would be otherwise. Despite the driving challenge, I did see a handful of cars and fishermen there. Maybe the VDGIF should drop a couple bombs and make it a little tougher still.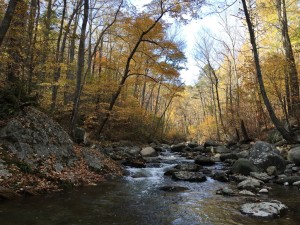 The fall colors are just past peak in the elevations, and there is lots of green in the valley. Overall, right now is probably peak color in the park. I suggest you avoid Skyline Drive this time of year. It is always crowded with gawkers and slow drivers in autumn.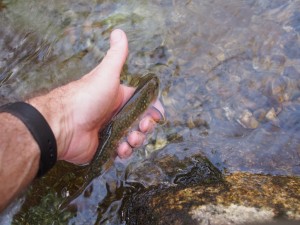 Fishing on the Rapidan was tougher than it should have been, all due to my fly selections. I tried Stimulators, Royal Wulffs, Mr. Rapidans, each with some success but lots of splashy refusals. What ended up really working, though, was a plain black foam beetle with a small orange square on top. I got the biggest fish on the Rapidan in a super shallow spot, at a moment when I was not expecting it. No photo of that one, sorry. Gotta remember (and I know this but am stubborn) — fall is a great time for terrestrials on brook trout streams.
Heading out, I decided to fish the public stretch of the Rose River. I've always passed this by. Rose River Farm is right up the road and I have fished there twice. I was hoping that jumping in on the public section downstream of there would put me in contact with some of those big RRF trout that may have washed downstream. Well, that didn't work out but I did get this one nice little rainbow.
Total stats for the day:
Three streams — ten minutes on the first, and hour and a half on the Rapidan, and hour on the Rose
Very little hiking, unusual in SNP
About a dozen brook trout, and more refusals than I care to admit until I tied on the beetle
One rainbow trout
One Rosyside Dace
Three fallfish, one pushing ten inches
Three bluegill
First leak in my waders
Yes, finally got a small leak in my cheapo LL Bean Emerger waders. Took a few years. Even though I try to be gentle on clothes, boots, and gear, these waders have seen more than their share of sliding down rocks, ripping through brambles, and other forms of assault. I'd give them high marks, especially considering the low price. Should be an easy patch job.
Anyway, beautiful fall brook trout fishing is going to wind down in the next couple weeks. Get out and enjoy the colors and the warm weather!
Data
Weather conditions: mostly sunny, winds SSW one to 7 mph
Air temp: 77
Water temp: unknown
Insect activity: none observed
Flies used: Stimulator, Royal Wulff, Mr. Rapidan