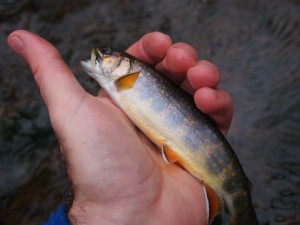 Jeremy's Run on a Saturday. What I was thinking was stupid. Hitting not one but two popular brook trout fishing spots in Shenandoah National Park in the same week was going to make this an odd week for me, and this second trip was… what? I was heading to the day hiker superhighway on the west side of the Blue Ridge. Trying to catch fish that have seen every Orvis and LL Bean fly ever sold. Walking past miles of pools infested with pasty old fly fisherman too feeble to hike into the "real" spots to fish. This was stupid.
Screw it. I went anyway.
I had just a few hours to drive somewhere, so Jeremy's Run was a prime spot. But when I left the house I still was half thinking I would bail and head somewhere else, knowing that this could be an inane idea on a weekend. So I drove down 340 talking to myself the whole way. Really… Jeremy's Run? You think you'll pull up to the trail head and have it to yourself? If you get there and see ten vehicles, what's your plan B? Drive back home? Really.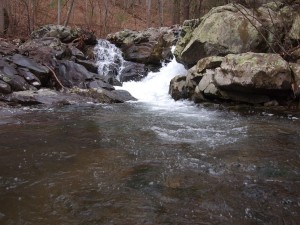 My preconceptions about the fishing pressure, which are based on things I've heard from a lot of people, has always made this place verboten for me. I did hike down Jeremy's Run trail from Skyline this past winter, but I didn't bring a fly rod and that hike was strictly recon. Just in case. This stream might have the easiest access of all the better streams in the park, and everyone has been to Jeremy's Run, so yes… I pictured a line of cars and pickup trucks nose to tail on the shoulder next to the sign warning to stay on the trail (it's on an easement over private property until it crosses the park boundary, like a lot of trails here). I imagined hiking a few miles to find real solitude. Mumbling to myself the whole way, too, and turning into a crotchety bastard with hair growing out of my ears as I went.
Turned out I was completely wrong. When I arrived at the trail head, there was not a single vehicle. Saturday morning, 11 am. Everyone knows the brook trout are eating now, right? So what was up?
Maybe all the fish were gone and no one told me.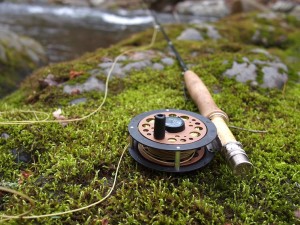 Maybe it was the weather. Forties and overcast, with fog hanging just above the valley and flowing like a slow stream in the sky around the top of the Blue Ridge. Yep, had to be the weather. Aside from a group of hikers and one other fly fisherman, I saw no one. Surely a seventy degree day would have had this place crawling. Since there are so many other good spots in this park, I'm not going to find out what Jeremy's Run is like on those days.
Like the Robinson River in White Oak Canyon, this is a nice stream. Good water and good fish. It's also nicely shaded and has a lot of good runs and pools. It's popular because of the ease of access, no doubt, but it's also a really good spot. I have to be fair and admit all that. Nice, nice place.
So the first fish I caught was about six feet in front of me. I had worked my way up into the middle of a pool that had no cover and was maybe two feet deep. I saw a splash and thought it was just the current piling onto itself. But it happened again and I saw the fish. And a second smaller fish. How could they not see me? So I cast upstream with the same Rusty Parachute with which I had ended the day at White Oak Canyon earlier in the week and lifted the rod tip to keep the leader off the water. Let it drift. And BAM! I got the first one. And then I got the other. Sweet.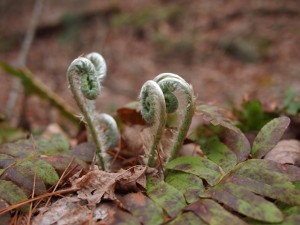 The water was about forty four degrees, maybe forty five. I really need a better thermometer. The one I have just has ticks between every marked twenty degree interval. But low to mid forties it had to be. So I caught several more, all decent sized, and I missed a few, as always.
Just awesome. How can you not love brook trout?
I brought the Winston WT 7 foot 3 weight I got on eBay a few weeks ago and I really like this rod. I've used it now on three brookie trips. Today was the first time I used it with a 3 weight line (the correct line), a double taper from Hook and Hackle. I had been using a four weight line and it casts that well so long as you keep it within thirty feet or so. Beyond that and it starts to get soft though it still throws it. The WT is definitely a medium action rod and casts a three weight fly line so sweetly. But none of this really matters much for this kind of fishing because I'm usually casting just the leader. Today I had the leader a little too long. I started with probably ten feet and 5X on the end of it. But with a size 16 dry fly and a couple changes it ended up being perfect. With the proper leader, this rod delivers it however you want provided the wind is light. Delicate drops, power or even roll casts, no fly line involved, are no problem. You just don't want to rush the cast. Let it load and push your thumb through it. Pleasant. I'll try to devote a post to a short review of this thing. Not that it's some new piece of equipment, but it is a rod that seems to be overlooked these days given everyone's obsession with ultra fast action rods. For small stream fishing, though, this kind of rod might be ideal.
So Jeremy's Run, sorry I've ignored you for so long. It might be a while before I return, but at least now I know. You're worth the trip. Unless the weather is good.