Summer is officially over, and that means the same for my long hiatus from work and this blog. You see, over the past couple months I took some time off. My travels brought me to some brook trout as well as some real big fish, and also to some incredibly tiny fish.
First, the brook trout. As usual, each summer I spend some time in the Poconos, a wooded expanse of hills and water in northeastern Pennsylvania. In only one of two trips I took to catch some brookies in the past two months I managed to catch ten fish in one afternoon on a small creek near the cabin we go to each summer. It was crazy. These fish were all in two pools that I always hit on this stream, and for some reason every one that I got to my hands slipped out. Camera shy I'm sure. Totally annoying and yet amazing fun all the same. This included what was the biggest brook trout I've ever had in my hands, easily over twelve inches and possibly larger. This was one of only a few times I've actually "battled" a brookie. On a three weight rod a lot of small fish are a minor fight but this was truly an effort. And as I grabbed my camera and brought this relative lunker into focus he thrashed right out of my hand and back into the water. Bummer. But what a fish.
The summer also included the usual fare on the lake we visit — pickerel. Almost any time of day, these guys attack almost anything. With the hot weather we had to go deep to get them, and though some days were a little slow they are always willing to assassinate a Clouser minnow or a slowly drawn lure.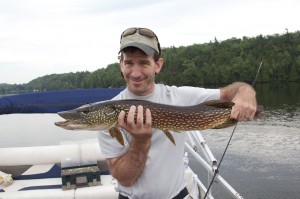 But the big trip of the summer for me was to Gananoque Lake in Ontario, Canada. A couple friends let me tag along on a trip they take every summer (one of them for the past thirty years) to catch some big bass and pike. I had never caught a pike until I hauled in this guy.
Sweet.
The big disappointment of this trip was being restricted to spin fishing only, except for several nice bluegills and a large crappie I caught off the dock of our cottage with my big old 9'6″ 8 wt Scott G series. When you're on a boat with three other guys who don't fly fish, the fly rod is not a popular idea. When I asked, the response was something like, "Sure you can fly fish. Get your own boat." So it was the Ugly Stick with a 12″ wire leader and one super productive lure all day every day, the silver and blue Rattletrap. It was hot. Had to go deep.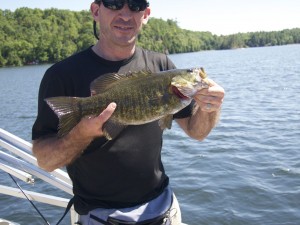 All that was great but the bass fishing on Gananoque Lake was the biggest surprise. These guys have never had huge success with smallmouth bass but three of us hooked some good sized bronze backs like the one pictured with yours truly. Certainly the biggest smallie I've ever landed, and by far the biggest fight of any fish I caught that week, big pike included. There is nothing — NOTHING — like catching a healthy smallmouth bass. That made the trip for me.
Other highlights of the summer included a stop on the St. Lawrence river for more pike and a trip to Round Valley Reservoir and the South Branch of the Raritan in New Jersey. My dad and I hit both of these on another very hot day in late July. Skunked we were, but I did see some nice rainbows in the reservoir and I know the South Branch has a great population of browns, rainbows and brookies. I will definitely be back there this fall and probably this winter too. Hopefully I will get to Round Valley again, too, and in a boat since the shoreline fishing is a little limiting in that place.
As for the incredibly small fish, that happened in late August on the North Fork of the Thornton River in Shenandoah National Park. I'll come back to that. It's impressive in its own way.
Hope you all had a great summer. Stay tuned for more…